http://www.apimo.dk/programs/updates/newpalm1.zip it is 100kb for a working Palm software. Data can now be edited
Paper free Hive note taking, saving time at the computer.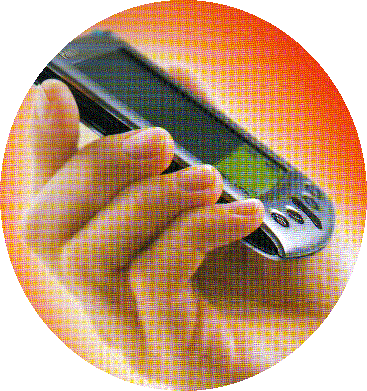 Your Data on the fingertips

Bidata is now capable of communication with a Handheld computer. Bidata is now default prepared for this task. This means you need one and only one software for this.

supported handheld devices are as follow:

Palm Computing Platform-compatible handheld

computers such as the 3Com Palm III™ , 3Com Palm V+™ and PalmPilot™ connected organizers, Symbol Technologies' SPT family of devices, Handspring Visor Pro , the IBM WorkPad PC Companion™, QUALCOMM's pdQ smartphone, and the Franklin DayPlanner™.

Without a Scanner you manually select the hive to work with and then after manipulating save the record as a new note. At home Just synchronize with Bidata desktop and work is done.

With a Scanner connected to your Handheld device or a Symbol Integrated scanner, you will be able to scan a barcode generated in the Bidata software and placed on/in the hive. This will then bring you directly to the note in the handheld database, Then just edit the note and save it as a new note, and on to scan next hive. At home you just synchronize with the Bidata desktop and work is done.

Visor PalmV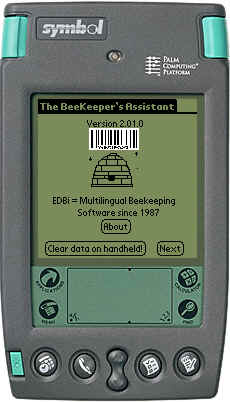 Symbol SPT1550
The above is just some examples of platforms Bidata palm is running on. The palmV and Visor can be downloaded as a demo for Desktop PC
You tap in your data on the Handheld, and at home you just put the Handheld in the cradle and press a button, and your data is 'written' into the Bidata software. No more un necessary work at the computer, and you have time free for what you real have interest in, your bees. With a modem and a mobile Phone, You can even connect to your computer at home, and if you have more employed people you can be kept updated at home with data from your Bee yards.
Please e-mail to Apimo for more information.

Bidata and Pollendata are trademarks of Apimo Biavl. All other products mentioned are registered trademarks or trademarks of their respective companies.


Questions or problems regarding this web site should be directed to apimo@apimo.dk
Copyright © februar, 2010 Apimo Biavl. All rights reserved.
Last modified: lørdag februar 27, 2010.