Please register the software by submitting the following form. The registration is free of charge! and I will be able to inform
You of coming updates!
Please Remember that this registration is free of charge!
for more pollen pictures
.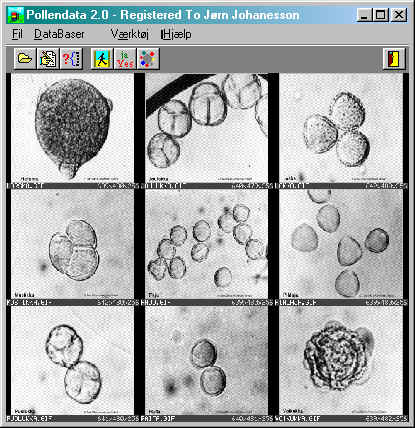 hot Win95
.(5.5 win95)
The pollen Picture package (obs it is huge : 5.5mb zip file)
The pollen database has been developed with help from a lot of people and I have to give a big 'Thank You'. Especially to the members of BeeNet with special thanks to John White, England for the excellent pollen help filel, to Dr. Malcolm T. Stanford for the pollen pictures from Florida and to Durk Ellison for the tremendous work he has put in this project. (around 8000 Latin names in the database and a lot of pollen grain pictures, that are delivered separately). A lot of other people have been engaged in this project too and I am here giving a big THANK YOU to all of You!
The Pollen database has been developed for those beekeepers who are interested in knowing the source of their honey. It is also suitable for building up your own Beeplant Flora. You can, by adding pictures, build your own local database, but be warned : The pictures must be in Windows BMP format, and as an example we have included four pictures that will take up 1mb of your disk space.
The best of it is, that this software is free of charge. The only thing we will ask of you is that you help us to improve the database by sending us the information and pictures you add yourself, so that we can build up a CD with this software, containing as many pictures as possible.
The program is multilingual and supported languages is for now :

English
Danish
Swedish
Dutch
French
Spanish
Finnish
Brazil Portuguese

| | |
| --- | --- |
| | Easy search in the database |
| | Thanks to a specially developed search form is it possible to just click the search items you want to use, and the search language will be build for you. Activating the search will then give you a list of the plants matching your search criteria. You then click one of the plant names and the relevant data will be shown to you in a tabbed notebook where you can have a look and also edit the selected plant. |
| | Easy editing and adding new plants. |
| | Adding new plants to the database is as easy as searching. The criteria list for each characteristic of the pollen is available by double clicking and then just select the characteristic you want added. |
| | Get the software to speak your language. |
| | It is easy to get the software to reflect your own language. The language files are plain text files that can be edited in Windows Notepad. Use the Wlang.44 as basic. Edit it and save it with your country code as the file extension, and the software will show up in your normal language. You can not get it easier than this to change the program language into any language you like! |

Using this Apimo/BeeNet product will turn your computer into a helpful tool for searching the plants that have delivered the source for your honey.

Platform

Microsoft windows(TM) win95-98

Computer

386sx 40 MHz or better

Harddisk

Program space around 8 Mb
1 GB or more if you want to add pictures

Screen

at least 256 colors

Bidata and Pollendata are trademarks of Apimo Biavl. All other products mentioned are registered trademarks or trademarks of their respective companies.


Questions or problems regarding this web site should be directed to apimo@apimo.dk
Copyright © februar, 2010 Apimo Biavl. All rights reserved.
Last modified: lÝrdag februar 27, 2010.